We are approaching the end of the 2023 Juniors Program. If you are new to archery and want your youth archer to join the program, you can buy a 2024 membership right now from the portal link on our "Memberships" tab. By buying your 2024 Youth or Family membership now, your youth archers will automatically be included in the Juniors program for free for the rest of 2023 and they will have their spot in the program already for all of 2024
The program schedule, up to the end of the current School year (ending in June of 2024) is included below.
To join as a youth club member, and have access to this program, just go to the "Memberships" tab on our website and sign up online for your 2024 membership and come out to see us at the next Juniors class (at 11:00AM) on an upcoming Saturday morning!
Here is the link to our website where you can find the link to the portal for buying your 2023 membership:
https://sherwoodparkarchery.com/membership/
If you want to join as a family, you can do so and all your family members between 10 and 18 years of age are automatically included in the Juniors Program!
Here is the schedule for the rest of 2023 and the first half of the 2024 Juniors Program: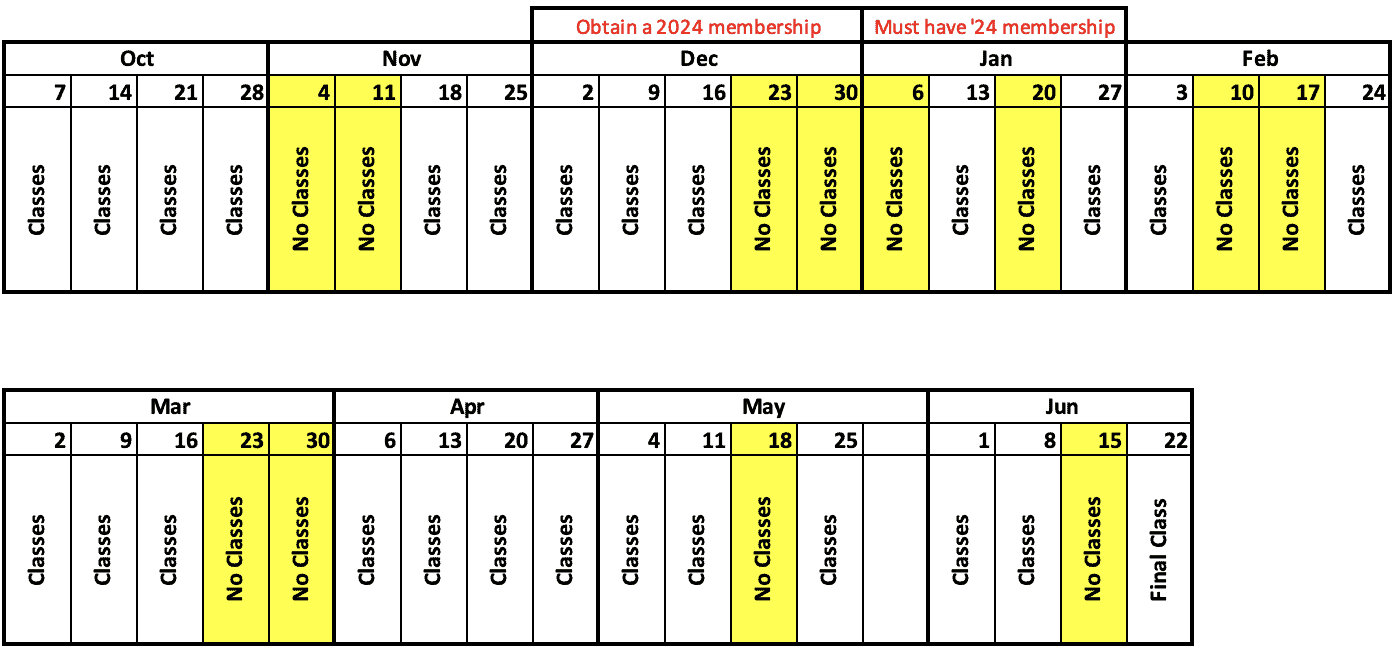 We have previously accepted some archers into the program who are younger than ten years old. If your young archer is less than 10 years old and you would like to see if we might still be able to accommodate them in our second class.
You can contact us at info@sparchery.com and make arrangements to come out and participate in one of our classes to see if this is a good fit. We will need to make sure your archer is physically able to use our equipment (if they don't already have their own), and to make sure they are able to focus in a busy setting so that everyone has a safe and enjoyable experience during class.
Location:
For directions and a google maps link to our archery range location, go to our "Location Tab"
About our Juniors Program
The Sherwood Park Archery Club Junior Archery Program offers archers (from 10 to 21 years of age) an opportunity to develop and improve their shooting skills and knowledge. The Program provides instruction and coaching for all levels of young archers and consists of indoor and outdoor classes between November and June. The program also includes archery events to provide Junior Archers with competitive target and 3D experience plus some fun archery events.
Lesson Times
9:30 – 10:45 am Early Class (Late Intermediate & Advanced/Competitive)
11:00 – 12:15 pm Late Class (Novice & Early Intermediate).
Please arrive 10 minutes prior to your class, and immediately proceed to the back of the shooting range and begin setting up your bow. At 10:30 things can be a bit chaotic as one class ends and another begins, so please proceed to set up or take down your bow quickly to allow everyone the maximum amount of instructional time possible. If at any time you require help setting up or taking down your bow or adjusting any of your equipment, just approach one of the coaches and they will be pleased to assist you.
The first class is dedicated for more advanced intermediate archers and advanced/competitive archers (some of whom stay to help coach our second class). The second (later) class is mainly for beginners and early intermediate level archers. This second class is more focused on developing a solid basic form and technique.
Coaches
Every year we are very fortunate to have dedicated and enthusiastic individuals (including Nationally Certified Coaches) willing to volunteer with our Juniors Program. However, we are always looking for more volunteers to help coach our Juniors. More coaches helping out in each class means our Juniors get even more help and make even greater gains in skills and knowledge over the course of the program each year. Anyone can volunteer and no one will be turned back. If volunteers are interested, we will even cover the course fee if they want to take a coaching certification course in return for them agreeing to coach with our program.
Parental Supervision
Parents please don't just drop your child off and leave, especially if your archer is under the age of 12. Please be prepared to stay for the lessons. If, on a rare occasion, you are unable to stay or need to leave for some reason, please speak to your child's' coach.
Equipment
We recognize that parents of new archers may understandably be reluctant to purchase a new bow. Ultimately, it is in the archers' best interest to acquire their own equipment as soon as possible as each bow is customized to the individual archer. We do have bows that can be shared amongst the young archers. However, due to covid concerns, we even more strongly than usual, suggest you buy a bow and six arrows that can be used by your child so that they do not need to share equipment during a class.
Several equipment options are available:
 Bows
Borrow a Club Recurve Bow (not recommended at this time)
The club has a limited number of recurve bows that we will make available for a limited time. There is no additional charge for the use of this equipment but archers should realize that they may have to share this equipment with another archer. As noted above, we strongly recommend that you not rely on shared equipment at this time
Purchase a New or Used Bow
There are a number of local archery stores with staff that will be pleased to help with the purchase of appropriate new equipment. These include; Wyld Archery, Jim Bows Archery, Canadian Tire, and Cabela's. As our juniors grow each year, you may also be able to find one of our own members with used equipment for sale that might meet your needs too. If you pursue buying a bow at Canadian Tire, we only recommend their "Barnett Quicksilver Archery Set" or their "CentrePoint Sycamore Takedown Recurve Bow Kit" and we further recommend that you then go to either Wyld Archery or Jim Bows Archery, to order a set of six arrows designed for the correct draw weight of the bow you chose to buy. Please note that the Barnett Quicksilver bow will only be suitable for our youngest/smallest archers. If you go to any of the other vendors noted above, you can look at a basic recurve bow or a compound bow for beginners and a set of six arrows to match the style of bow (recurve or compound) and the draw weight of the bow you choose.
Arrows
New archers may borrow arrows from the Club until the end of December 2020. In January of 2021, all archers will need at least 6 arrows of their own for the remainder of the program. Arrows are sized to the individual archer and may be purchased at any of the stores noted in #2 above (with the exception of Canadian Tire arrows).
CanBow Program
The Junior Archery Program follows the CanBow Archery Skills Awards Program as set out by the Federation of Canadian Archers (FCA). CanBow offers young archers an opportunity to improve their shooting skills and knowledge.
Within the Junior Program the Archers will earn badges as their skills improve. Once the Archer has mastered the basic skills we will have the archer begin to shoot scored rounds. Each score will consist of 30 arrows shot in 10 ends of 3 arrows.
For an Archer to earn a badge they must demonstrate certain archery proficiencies and knowledge and in addition must shoot two scores at or above the level required for each badge. Scores must be shot in the Saturday classes or on club night or at a registered shoot. If an Archer attains a score of their next level at a registered FITA (tournament) only one score will be required for them to earn that level of badge.
The Program has four levels:
Level 1: Basic Form and Safety (4 badge progressions)
Level 2: Competency and Basic Equipment Knowledge (4 badge progressions) Level 3: Increased Skill and Physiology (5 badge progressions)
Level 4: National Skill Level and Tournament Preparation (11 badge progressions)
The CanBow Program incorporates 3 target sizes (80cm, 60cm, & 40cm) with the Archer working their way from the largest to the smallest target.
Once a junior has earned all the badges for a particular size target they move onto the next smaller target. The badges earned by the Archers will be handed out on a regular basis during the year.
The Canbow Badge Levels are as follows: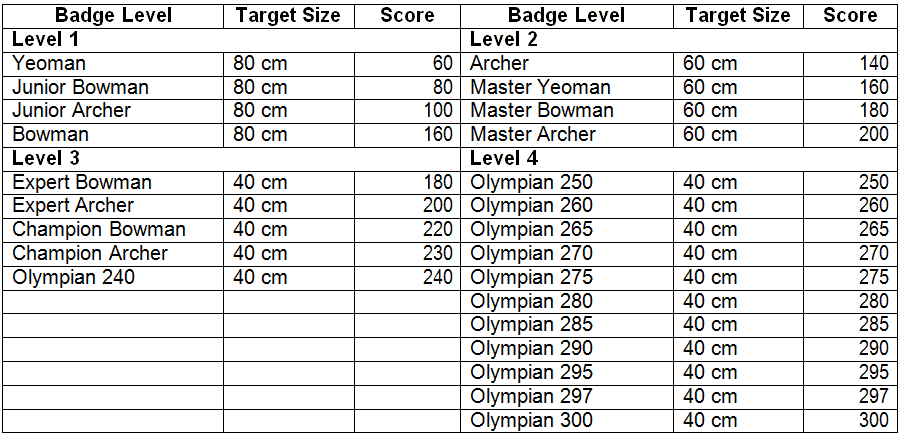 Questions! You can direct your questions to any instructor. We will be pleased to answer them to the best of our abilities.
Beginner Archery Form – skills2
For more information about our Juniors Program, please email Darcy O'Hara at:: junior@sparchery.ca
Helpful Web Links
www.fca.ca                   The Federation of Canadian Archers is the governing body for the sport of archery in Canada.
www.ataa-org.ca/         Archery Alberta our primary provincial sport body. The focus of this organization is on target archery – indoor, outdoor, field, and 3D too.
www.bowhunters.ca/   The Alberta Bowhunters Association (ABA) is the other provincial body in Alberta, and focuses on hunting and 3D archery.
www.bowzone.ca        Bowzone.ca – Canada's largest bow hunting and archery web site.
Archery for Beginners: How to Get Started
https://www.completeguidetoarchery.com/archery-for-beginners-how-to-get-started/
A Beginner's Guide to Buying Archery Gear
https://www.archery360.com/2018/06/28/beginners-guide-buying-archery-gear/
Ultimate Guide to Backyard Archery
https://www.homeadvisor.com/r/ultimate-guide-to-backyard-archery/
What is Wheelchair Archery?
https://www.passionatepeople.invacare.eu.com/what-is-wheelchair-archery/
Reasons Kids Should Practice Archery
https://www.nfaausa.com/2017/01/reasons-kids-should-practice-archery/